Story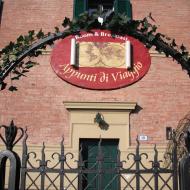 Appunti di Viaggio is a new room & breakfast, halfway between Bologna and Ferrara ( 15 e 25 km).
It is a perfect marriage between two of my deepest love: years of successful work in Hotels and my family. I could do without neither the one, nor the other . Therefore three years ago we all together started up with this wonderful adventure. I left my hotel job, me and my husband found a beautiful 30s style villa. We restored it and moved in with our children. A part of the house became our home; the other one, which used to be a cellar and a barn, was completely inside rebuilt obtaining a small hall and 5 rooms with en -suite toilette.
We meant to create thematic rooms, and since we like to travel, we reproduced a micro-world inside of our home, selecting the countries we like the most. I love India and Africa, Greece reminds us of our honeymoon. Japan and Icelan are so different both in culture and geographic location that we found interesting their reproduction for our inside travel. I don't know if it is because of our passion, or if because we really believe in our project ….but our dearest Customers seem to agree with us….. So we whish to thank our "ultras" that is the name we use by joke to call our frequent sleeprs who everyday help us to go on with our dream.
It is obvious that I cannot name them, but they surely know who I am talking about. A special thanks goes to those companies who trusted us and who believe a room & breakfast is not necessarely "below" a hotel, so with confidence they keep on reccomanding us their Guests' care. We wish to thank our parents, who always encouraged us to go on by any mean possible. In the end my deepest and personal thanks go to my husband Massimiliano and my children Alice, Cristian and Asia for love and support, and for keeping on trusting me, everyday.
Rita