Breakfast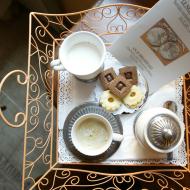 Breakfast is offered as a free room service, even trays and potterys reproduce the style of the room they are assigned. We propose a wide range menu.
Every morning, after baking our croissants I enjoy serving them still warm and flavory together with assorted juices, squizzed orange juices, coffee, cappuccino according to our guest request.
APPUNTI DI VIAGGIO suggests you some breakfast proposal. Our menu changes according to the season.
*Food marked with star may contain following allergens: Gluten, Nuts, Milk, Sesam, Soya and similar, Egg, Fruit, Peanuts, Margarin.
Espresso
Cappuccino
Tea
Green Tea
Deteinated Tea
Hot Chocolate*
Assorted Fruit Juice
Squeezed Orange Juice
Golden Rusks*
Toast Bread
Croissant*
Jam filled Croissant*
Croissant Cream and Morellos*
Cream filled Croissant*
Chocolat Turnover*
Bread*
Butter
Jam
Nutella*
Honey
Yogurt